Tin Man a Roadside Attraction onf the Information Superhighway
The Tin Man of Goshen: Roadside Attraction on Information Super Highway
Giant Mallet-wielding Tin Man with a Heart - Goshen, MA
See the Tin Man on GoogleEarth
---
---
An interesting sight awaits you as you travel through Goshen, MA.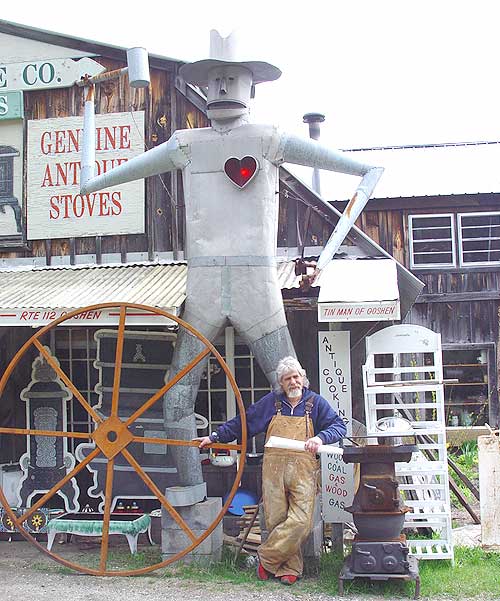 ---
Good Time Stove Company is what puts Goshen, population 921, on the map.

---
Careful that the Tinman doesn't rust in the rain.

---
Goshen Tin Man
The Berkshire Eagle. Tuesday, April 9, 2002.
If the Tin Man of Goshen appears in the Zippy the Pinhead comic strip, Alexander Koziol of Pittsfield will be responsible. Appreciative of Zippy creator Bill Griffith's obsession with giant representational commercial icons, Koziol sent us photos of the statue so we could forward it to Griffith.
"The Tin Man used to stand in front of a plumbing and heating firm on Route 9 in Florence," Koziol explained. "He is at least 50 years old and is now in Goshen on Route 112. The Good TIme Stove people added a heart that lights up at night.
This man's metal passed many a test



By Jane Roy Brown, Globe Correspondent
October 22, 2006
Goshen -- "Every stove has a story," says Richard "Stove Black" Richardson, who restores and sells antique stoves at the Good Time Stove Co. in this small town northwest of Northampton.
But the story of even the most ornate Victorian cylindrical parlor stove would have a ways to go to match that of the 20-foot-tall Tin Man who stands guard over Richardson's shop on Route 112.
As Richardson tells it -- and he's had plenty of practice ever since the two-story sheet-metal figure appeared in the "Zippy the Pinhead" comic strip -- the Tin Man "came to life" in about 1955, when he was created to advertise a local fuel company.
"Originally, he was going to have a wife, a son, and a daughter," Richardson says. "But as soon as they put him up, teenagers started dressing him in funny clothes. You know, polka-dot pants and so on." He shrugs. "It was a cleaner era then."
That chapter of the Tin Man saga was history in 1971, when Richardson first arrived in Western Massachusetts from New Jersey in a friend's Model A Ford . He fell in love with tiny Goshen (current population 921). Two years later, he returned and started the Good Time Stove Co .
An artist as well as a collector, Richardson has since assembled not only an impressive assortment of vintage stoves (both cooking and heating models), but also old bicycles and other intriguing metal items.
The stoves stand gleaming inside the shop, sporting handsome details like silver curlicues and claw feet. Two of Richardson's daughters, Sara ("Stove Princess"), and Megan ("Stove Parts Girl"), and a son, Jamie (no stove name), also work in the business.
The Tin Man had many years and miles to go before joining the Richardson family enterprise. His original owner at the fuel company, tired of the relentless sartorial sabotage, put him on the auction block, where a local farmer snapped him up and tried, unsuccessfully, to donate him to the Goshen Historical Society.
The farmer then put the big guy to work as a scarecrow, equipped with an outsized pair of tin snips and a hammer, the tools of the metalworker or "tin knocker." But the local kids resumed their raids and even started using the Tin Man for target practice.
As a final insult, someone made off with the Tin Man's tools and head.
What was left of him stood in the field for several more years until the farmer offered to swap Richardson the bullet-riddled remains for stove parts. So it was that the Tin Man lay in Richardson's field for "about five years."
Eventually, Richardson persuaded Smith Vocational and Agricultural High School in Northampton to restore the battered icon. He tied what was left of the Tin Man to the top of his van and headed for Northampton, about 15 miles away. En route he stopped for coffee and ran into the Tin Man's previous owner, who announced that he had just recovered the missing head. Richardson took this as an auspicious sign.
Sure enough, a class of aspiring metalsmiths reunited the Tin Man's head and body and added a glowing red heart, like the one celebrated by his precursor in "The Wizard of Oz."
"He had a lot of bullets in him," says Jamie Richardson, who was a student in the class.
Fully restored and installed in front of the stove company, the Tin Man became not just a trademark, but also a local beacon of . . . something.
"It gives people a sense of stability," Richardson says. "And since we put him up , he's never been vandalized."
Contact Jane Roy Brown, a freelance writer in Western Massachusetts, at This email address is being protected from spambots. You need JavaScript enabled to view it. .
© Copyright 2007 Globe Newspaper Company.
Goshen's Towering Tin Man
UNLIKE the tin man in the Wizard of Oz, the grinning tin man of Goshen already has a heart. Or at least people treat it as if it does. The story of this tin statue, standing by the roadside of Route 112 wearing a 10-gallon tin hat, reads something like a fable, full of magic, affection and brushes with destruction.
The tin man was born in 1958, the product of over a year's worth of George Duensser's craftsmanship. A few years earlier, Duensser, a German immigrant, had gone to work for an oil and heating duct business in Northampton called Hampshire Engineering Service, near the Haydenville town line. The owner of the business, Donald Affhauser of Northampton, had the idea to make a tall tin man to stand in front of his office building. It would "show the public what we could do with sheet metal," Affhauser said of his idea.
And it did more than that. Duensser died in 1972 but what he crafted as a gimmick became a landmark, one that made kids convince dads to pull over for a closer look and a snapshot of them with the 15-feet-tall tin man.
Elbert Ulshoeffer was one of those kids who never outgrew his love for the tin man. "The tin man is a monumental thing for a kid. How'd you like to run into him some dark night," said Ulshoeffer, now 53 and a building inspector in the Cape Cod town of Dennis.
When Hampshire Engineering closed shop in 1977, Ulshoeffer, who lived then in Goshen, paid $150 for his childhood memory.
Some people thought he was a little silly." The fellow I approached thought it was foolish. 'You're going to take that big thing down?" he said, recalling that day.
But to Ulshoeffer, the tin man was "a piece of American folk art" with some very special features, for example, the counterweights that had been put in his jaw so his mouth would open when the wind blew. As he strapped the tin man on his truck to take it the six miles up the hill to his house in Goshen, he was also taking it to the hometown of Duensser.
Landing back in the home of his maker wouldn't be the last coincidence in the tin man's life. The playful vandalism that plagued his early years would return later in a less playful manner.
Ulshoeffer can remember when teen-agers made the tin man the target of their jokes - once dressing him in polka-dotted underwear and another time in diapers made from bed sheets.
A few years after Ulshoeffer took the tin man home with him came a fateful, hot August day, a time of year when the tin man would heat up in the sun and wasps would nest inside his head.
But neither hot metal nor wasps could keep away the teen-agers who took a hacksaw and cut off the tin man's head. Ulshoeffer remembers hearing a noise in his back yard, then seeing a car speed off down a dirt road. He and his three boys found their tin man had been beheaded. "We all had a good cry that day," he said.
It was more than Ulshoeffer could stand to see. "For me, it was destroyed without the head," he said. He decided to negotiate a trade with Goshen antique stove restorer Richard Richardson. Ulshoeffer needed some stove grates from Richardson who could take the tin man in trade.
To Richardson, a collector of old pieces in his own right, the charm of the tin man, even if it was headless, was immediately apparent.
Ulshoeffer had no way of knowing that seven years later his father-in-law would find the long lost head - sitting atop another oil company, this one in Chicopee. Ulshoeffer reclaimed the head from the owner of the company, 'a landlord who had happened to. rent an apartment to the vandals, who left the tin head behind when they moved out.
At first, Ulshoeffer thought "How do I get the body back without telling Richard that I got the head?"
Meanwhile, Richardson had already packed up his headless tin man and sent him down the mountain for repairs at Smith Vocational High School in Northampton. For a year, it was the pet project in the high school metal shop.' Teacher John Lind recalled the craftsmanship that had gone into making the tin man.
It was beyond any skill that a tinsmith might have to use in normal work, he said. It was more like a sculpture, a piece of' art, in the way its curves resembled the human form.
Ulshoeffer decided that in· the interest of keeping the tinman whole, he would' turn over the head to Richardson. With the tin man's real head returned, he was moved back to Goshen to guard another craftsman's shop.
The cars still stop at the sight of the tin man who stands in front of the Good Time Stove Company on Route 112. For Richardson,' who has devoted the last. 17 of his 42 years to restoring the spirit of warmth to old wood stoves, the tin man also has a spirit. He sees him as the incarnation of his father whom he hasn't seen since he was 3 years old. In the only picture he has, his father wears a cowboy hat like the tin man's. Richardson has expressed the desire in his will that the tin man be left to a museum. He has already contacted the Shelburne Museum in Shelburne, VT.
It seems the tin man has a good shot at immortality. Since he is actually aluminum, there's no danger of his rusting away. And through the worst of it, this sculpture has managed to persevere, charming people into the role of caretakers and staying' clear of the scrap metal heap.
Just last summer, Richardson got a letter from an elderly woman in Connecticut who had returned to the area for a family reunion in Ashfield. Carol Chambers of Hartford remembered him as the "metal man."
In something resembling a memoir of the metal man, she wrote to Richardson: "The metal man had always been a point of reference as we traveled as kids, packed into my father's small car - 8 of us - from Manchester, Connecticut to 'our' camp, an old sugar house in Spruce Corner in Ashfield.
'There's the metal man,' someone would yell as soon as it was in sight, and we'd all gawk in awed silence as we passed the tin giant, always kindly and smiling, as we passed Haydenville. "As young adults with our own children, we later sighed sadly as we passed the business in Haydenville where he had always stood but was no more. 'Remember the metal man?,' we'd say to our siblings when we took the infrequent trips to Ashfield. (Our kids let all this go over their heads, as the metal man was gone when they came on the scene.)
"But we lament no longer for the metal man is back, and as stately and smiling as before."
"It was quite early in the morning this summer when we snuck out of our car and, posed in front of our hero for another picture with the metal man - this time the kids posing were 'big kids.' We piled back into the car, giggling, hoping the people in the adjoining house had not been awakened."
1960 - Rooftop Tin Man
THE TIN MAN, damaged by vandals a few weeks ago, is back in one piece again atop the Hampshire Engineering building .on Route 9. With new arms and kneecaps, the Tin Man will now brave the elements from a lofty perch, strapped to the building by metal wires. He previously stood on the ground.